Zenfone 2 : A whole package of great features
As we already know, or if you haven't, the ZenFone lineup uses ZenUI interface. If compared to Android operating system standard interface, ZenUI has experienced 1000 modifications/enhancements. And Zenfone 2 takes it to a another level of experience enhanced by ZenUI.
As i write about the initial article about Zenfone 2 regarding it's design here, now let's talk about it's feature especially on software.
ZenUI is simpler and easier to navigate in ZenFone 2. Some new features includes ZenMotion, SnapView, ZenUI Instant Updates, and TrendMicro Security software. To get ZenUI always updated, ASUS applies ZenUI Instant Update. This method separates or divides ZenUI into about 30 applications which users can batch-update them. By doing this, users will not have to wait for or be burdened with large capacity system update. User interface updates requiring big capacity is quite common among other Android smartphones. Here are some interesting things about ZenUI on ASUS ZenFone 2.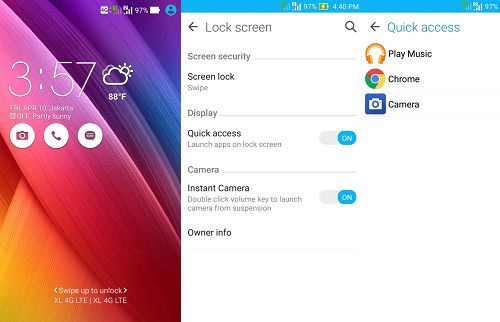 As soon as ZenFone 2 is switched on, we will be taken to a Lock screen view which will display information on current date, weather, location, GSM network status, and three frequently-used application shortcuts. Swipe upward to enter the main menu (Home screen). Lock screen can be modified as usual with option like Swipe, Pattern, PIN, or Password to unlock the screen. In addition, user can also activate the camera by double click feature via volume button when ZenFone 2 is in standby mode.
The new ZenFone 2 features improved Home screen viewing, adorned with fresher new icons than the first version of ZenUI. Users frequently updated his/her ZenUI via Google Play Store may find themselves quickly familiar to ZenFone 2 interface. Widget, Wallpaper, Icon Pack, Scroll effect, preferences and setting can be modified by tapping on an empty space in Home screen mode to open Manage Home menu.
Not limited to wallpaper, Icon packs let users change other things. And to further personalize ZenFone 2, more icon packs are available in Playstore for downloads. To enhance users experience when swiping screen, choose from 11 effects delivered by Scroll effects feature.
Security
ASUS packs ZenFone 2 with several security modes, starting from standard security features, such as preventing installation from unknown sources (to block unauthorized apps installation is the standard security feature of Android OS), Lock screen, Screen pinning, Kids Mode, to a more sophisticated security software TrendMicro's Dr.Safety.
ASUS ZenFone 2 allows users to lock certain applications with password, which will be kept in users' Google account. ZenFone 2 system will ask for the password when someone tries to run the application without permission.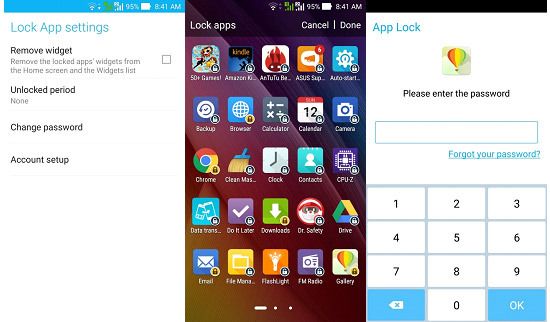 In Lock screen options, users can opt for Swipe (the default is to swipe upward), Pattern, PIN, or password. Another security feature in ZenFone 2 is Screen pinning. As the name implies, when the feature is turned on, you can pin the screen and keep the current screen in view until you unpin.
Kids Mode is one of the interesting security features in ZenFone 2. This feature lets users restrict applications they want their kids to use and incoming calls they want their kids to receive, unless the children have access to the PIN.
Lastly, let's meet SnapView. This feature provides two different login accesses/accounts, as if users had two separate smartphones. The first account keeps personal applications, files, photos and videos. The other account manages office email, business tasks, and business applications. Doing this, users can keep private life separate from work life.
ZenMotion
One of the new features offered by ZenFone to is ZenMotion, to enable more intuitive input. Through ZenMotion, users may setup certain gestures to do/activate certain tasks on the smartphone.
ZenMotion offers two types of gestures: Motion Gesture and Touch Gesture. Motion Gesture will allow users to do tasks by shaking the device.
Motion Gesture, for example, while working with the browser, shake ZenFone 2. The system will automatically create a screenshot and add the web page you are opening to Do It Later list. Later on, when you have the time, you can return to the saved web page in Do It Later list and continue reading.
Touch Gesture, when activated, you can turn on the smartphone by double tap on screen when it's sleeping/idle. Opening an application when the phone screen is off is an easy task. Draw certain letter on the screen. For example, draw letter "W" on the screen, ZenFone 2 will be active and open the browser. Drawing letter "e" will open email application. Users may choose applications to be associated with these gesture shortcut.
Connectivity
ASUS ZenFone 2 already supports 4G LTE connectivity. How about in Indonesia? No need to worry. 4G LTE may not flourish yet, but ASUS ZenFone already offers 4G LTE compatibility. Below is our 4G LTE and ZenFone 2 test result, using XL HotRod 4G LTE SIM card. The test was conducted in Jakarta area.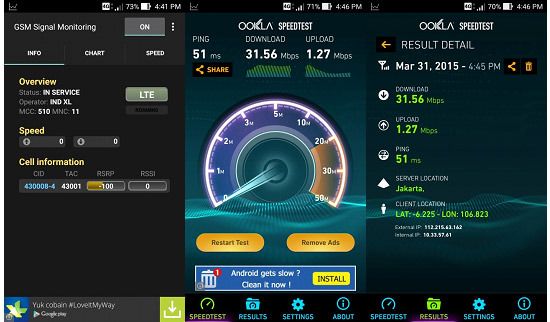 Extra Feature
With some improved features, the newer interface is different from the first ZenUI installed in first generation ZenFone. Check out some interesting ZenUI features. PC Link has been around since the first version of ZenUI was launched. Developed by ASUS for its smartphone and tablet products, PC Link is simply a PC suite that helps user to access the device through a desktop PC or a notebook. Another good feature is Remote Link. It is a powerful utility that lets users use ZenFone 2 to operate PowerPoint or Windows Media Player in the laptop/notebook via Bluetooh connection.
User can also adjust color, sound output, and power management setting through Splendid, Audio Wizard, and Power Saver features.
ZenFone 2 comes with three built-in mode settings. Balance mode is to adjust everyday use while Reading mode helps user to conveniently read e-book, e-mail or to browse comfortably. Vivid mode is perfect for video or game viewing. Splendid mode is used to adjust screen view colors.
To modify and adjust sound output, ZenFone 2 employs Audio Wizard with six modes to choose from.
Last but not least is Smart saving. This feature automatically enables users to save battery by lowering processor (clock) speed, especially when user is not watching a Full HD video or playing games. Smart saving setting is customisable to suit currently running applications. Adjusting smartphone performance with running applications will eventually lead to battery saving and heat reduction.
Camera
ASUS ZenFone 2 features PixelMaster Camera 2.0, a newer camera technology. PixelMaster, an imaging system, combines special algorithm, hardware, and optical design to deliver better quality images in most scenarios. Dual tone flash is incorporated to ensure accurate color. Low Light Mode and Zero Shutter Lag are employed to capture photos at nights or in low light. And the 5 megapixel front-facing camera with a wide-angle Lens, 85-degree field of view will optimize your selfies.
There are four new modes for picture taking: Effect, Time Lapse, Super Resolution and Manual. Effect mode has it's standalone mode which can be easily triggered.
The most interesting feature is the Manual Mode. With this mode, users will experience taking pictures on a high end DSLR camera with their ZenFone 2.
By default, all settings including White Balance, Exposure Value, ISO, and Macro are set to Auto. However, there is no boudary for creativity. Users may take photos with different brightness level, quality, colors, etc. The above sample is taken in Manual mode set to Auto. And below is a photo shot in Manual mode with White Balance set to 2500K, Exposure Value set to +2, and Shutter Speed adjusted to 1/8.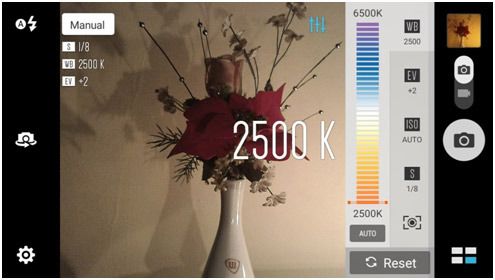 There are other 9 modes to support the 5MP front-facing camera and PixelMaster 2.0. It's quite an enhancement from the previous 5 modes. The new modes includes Effect, Selfie Panorama, Low Light, and Time Lapse. The must-try mode is Selfie Panorama giving the front camera an ability to capture images with an up to 140-degree field of view.
ASUS ZenFone 2 records Full HD (1920 x 1080p) videos. White balance, Exposure value, and Video stabilization adjustable settings are available to perfect the video. Aside from that, users may choose their own Video preferences, whether to focus on video performance or quality (by lowering frame-rates).
Done with photo shot session, there's PhotoCollage to collect, collage, and share photos. PhotoEffects feature lets you be as creative as you want with just a few getures. Some templates are already available for you to create an interesting photo album. And if photo album does not satisfy you, transfer your extensive collection of photos into rich videos with ZenUI MiniMovie. MiniMovie helps user create and share photo slideshows, adorned with movie titles and music, to your loved ones. When connected to Facebook account, MiniMovie allows you to create movie slideshow from your Facebook photo albums.
to be continued…… here