Zenfone 2 : No compromise on Performance
After covering a bunch of great features on Zenfone 2 in this previous post, now lets head on to the important aspect as well, the Performance. A particular ASUS ZenFone 2 to be discussed now is ZE551ML which runs an Intel quad-core Z3580 processor topping out at 2,33 GHz. While its predecessor uses a dual core dual thread processor, ZenFone 2 marketed in Indonesia features a quad-core chip for a better performance.
Performance
Underneath ASUS ZenFone 2, particulary ZE551ML, are 4GB RAM, 32GB storage, powered by a quad-core 64-bit Intel (Moorefield) Z3580 processor topping out at 2.3GHz. For a better graphic performance, ASUS powers ZenFone 2 with PowerVR 6430 chip running at a speed of 533MHz and suporting OpenGL 3.2, a widely used API in today's graphic and game applications. Intel Z3580 processor has an uncompromising performance 3x higher than the previous version and a clock speed 7x faster in gaming. Therefore, playing games, surfing the web, and watching Full HD videos run smooth. Running applications simultaneously creates no problem on ZenFone 2.
Based on a comparison test, Intel concluded that its latest generation processor offers speed 2x faster than a Mediatek octa core processors, or about 2x faster than Snapdragon 800, one of Qualcomm's high end chip.
CPU-Z application summarizes that Intel Atom Z3580's speed can be lowered to 500MHz to save battery and reduce processor temperature. CPU-Z also displays the average temperature of 3000mAH Lithium-Polymer battery is about 32-degree Celsius.
The question is whether the perfomance is as fast as it is claimed by Intel and ASUS? How does ASUS ZenFone 2 compare to other premium smartphones? Check this out: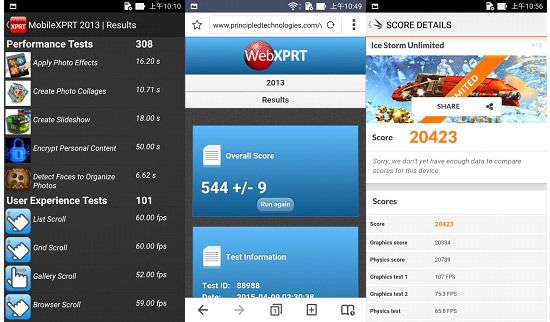 Below is a test result of Galaxy Note 4, one of premium smartphones available in the market today:
Another device to compare with ZenFone 2 is a Snapdragon 801-based Galaxy S5, a quite popular premium smartphone in Indonesia. The test result is as follows:
Battery
ASUS ZenFone 2 non removable Lithium-Polymer battery runs at 3000mAh, delivering the power you need to complete tasks and do activities from dawn to dusk. Big capacity is not the only advantage. ZenFone 2 highlights ASUS BoostMaster Technology to charge 0-60% in just 39 minutes. Ensuring safe charging, BoostMaster technology employs a unique power management system. It charges more quickly at the beginning and slows down when the battery is 60% charged. Less time waiting, less heat generating.
Underneath ASUS ZenFone 2 is the latest Intel platform with higher performance but more efficient energy consumption. Depending on your typical phone usage and by using Smart saving feature, the battery can last more than one day.
Frequently Asked Questions or FAQ about ZenFone can be accessed through ZenUI Apps. Another channel to get help for specific problems is User forum. No need to run a browser and search in the internet, just click on a menu in your internet-connected ZenFone. For further and more detailed solution, ASUS prepares Contact ASUS where users can search contact numbers for each country. Users may also interact with ASUS team or ZenFone fellow users via ZenTalk.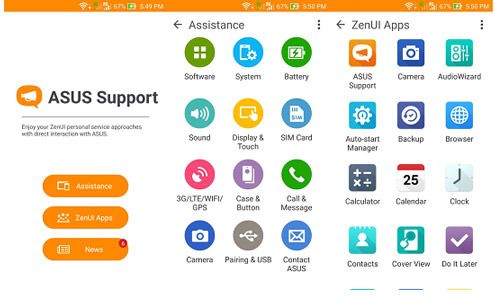 In a nutshell
ASUS ZenFone 2 is the latest generation ASUS Android smartphone that meets mobile users needs. There are a number of improvements brought by ASUS into ZenFone 2. The design, features, and performance are much better than the previous model while users will not have to spend much to enjoy them.
Design wise, ZenFone 2 is incredibly convenient to use due to repositioning volume button and camera shutter button for an easier access. An Intel quad-core Moorfield generation processor, a much bigger RAM capacity, and the latest Android operating system creates a truly smooth communication experience.
All new features in the interface, applications, dan camera (especially an addition of Manual mode) make ASUS ZenFone 2 a complete and perfect device for all day activities.



As for the specification on all of the Zenfone 2 Models, you can refer to my other post here.