Zenfone 2 : What a difference a year makes
A global dan major player in notebook business, ASUS made a breakthrough in the smartphone industry by unveiling ASUS ZenFone product line in the second quarter of 2014 which turned out to be a phenomenal smartphone series. Its premium design, advanced performance, and affordable prices at its class account for ASUS ZenFone successful entry to the market. Moreover, this breakthrough has changed the competition landscape in the global smartphone industry, including in Indonesia.
And a year later, this year, 2015 ASUS hit the market again by launching the iteration of its ZenFone series, unveiling ASUS ZenFone 2. The smartphone comes with even greater functions, more complete features, and offers more fun user experience. What are these new capabilities and features? Let's take a closer look at them, one by one.
Packaging and Package Content
In terms of packaging, ZenFone 2 box sports an elegant design, similar to the previous version complete with "a drawer-like compartment" out from the packaging. Some highlighted features, including 4G data connectivity, full HD display, Bluetooth 4.0, and camera, are printed on the right side of the package.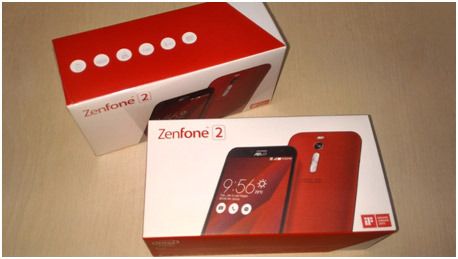 Aside from the handheld itself, inside the packaging, users will find a warranty card, a manual book, a power adapter, a USB cable, and information sheets explaining how to remove ASUS ZenFone 2 casing. Currently, ASUS appointed 3 official partners for ZenFone distribution in Indonesia, namely Erajaya Swasembada (TAM), Synnex Metrodata, and Datascrip. Any purchase from any other distributors will be considered illegal.
Back to the package, provided USB cable comes with a dual function: to connect and synchronize data between ZenFone 2 and notebook or PC; and to charge the device. ASUS ZenFone 2 offers a faster battery charging as it features a power adapter with a higher output of 5V/2A. Initially, ASUS used a 1,35 amps power adapter for ZenFone series.
More Elegant Premium Design
ZenFone is high performance smartphone lineup with a premium design in affordable price. However, for the new ZenFone 2, ASUS took one step ahead by improving its performance and design. A nicer design is made through Zen Spirit which represents the harmony between beauty and power.
Concentric-circle design, a typical design characterisic found in ZenFone and Zenbook, also exists in the new ZenFone 2. This charateristic can be seen especially at the bottom part of the device. No significant change has been made on the location of micro USB port for charging and data sync. A five mega pixel wide view front facing camera for a better selfie photo is kept at the same position as the previous version.
Power button is moved up to the top, close to speaker output. On this part of the device also sits a 3,5 mm audio port for earphone and an mic for noise cancellation feature which is very useful when a user is making or receving a phone call in a noisy environment. ASUS ZenFone 2 rear cover is made of plastic with a metallic hairline finish. This choice of material produces a stunning visual effect as well as a premium/luxurious metal impression when the back cover is touched. For an easy single-handed operation, volume button with ASUS concentric-circle design is now rear-mounted. The button also functions as shutter button when user is snapping a picture, especially selfies.
Two LED flashes are at the upper part of ASUS ZenFone 2 back cover. For the volume button, ASUS also provide the unique concentric circle design on it. Rear shooter features a 13MP camera with a fast f/20 aperture and 5 element lens for high quality picture production. Dual LED flash with dual tone ensures low light pictures to come out with more natural colors. The camera will be discussed further, later in another part of this article.
ZenFone 2 comes with an ergonomic arc design, gracefully curving at the back of the case, fitted conveniently for human palm contour. With a 1,09 cm thickness in the middle and 0,39 cm at the edges, ZenFone 2 is more convenient to hold.
A pretty wide screen of 5,5 inches does not necessarily make ZenFone 2 a bulky device. Reducing the bezels width gives this 15,2 cm x 7,72 cm smartphone a remarkable 72% screen-to-body ratio which is much higher percentage compared to other premium class smartphones. ZenFone 2 has a full HD 1080×1920 screen, with IPS panel to provide a wider 178-degree viewing angle. TruVivid display technology reduces the number of layers in ASUS ZenFone 2 display to only 4 layers, while other premium class smartphones come with 5 layers. The layers include LCD, OCA (Optical Clear Adhesive), Sensor, and Cover Glass modules. Reduced layers increase transparency level up to 94% and allow a lighter screen.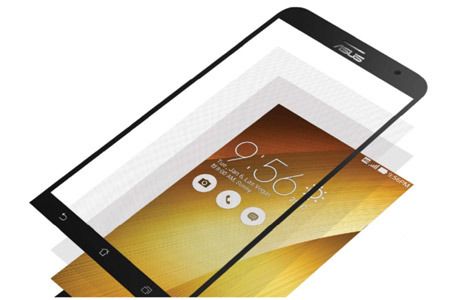 The screen has a pixel density of 443ppi offering 400nits of brightness. This brightness level is high enough to allow users to have a clear view of the screen even though they are outdoor. Moreover, clarity is improved up to 99% by applying Optical Clear Adhesive coating on the screen. The next layer to talk about is sensor, which gives much faster response time of just 60 milliseconds after touched by fingers. This means that there is almost no pauses when swiping, tapping applications, or playing games. Android phones circulating in the market today has an average touchscreen response time of 80 to 100 milliseconds.
Aside from being responsive, ASUS ZenFone 2 screen also supports Glove Mode feature. When this feature is switched on, the screen touch sensitivity will increase so that users can use the phone even if they are wearing gloves. ASUS perfects the screen performance by applying Corning Gorilla Glass 3 to enhance protection against scratches as well as minor bumps. On top of the cover glass, ASUS spreads an anti-fingerprint coating as thick as 20 nanometer. This coating allows user to tap, slide, or swipe on the screen without having to worry about leaving any finger marks and smudges.
ASUS ZenFone 2 reproduces 72% of NTSC color gamut. The higher percentage the more colors to see on the screen. And they are not just more color variants but also more precised and real colors as human eyes can see. It results in more beautiful and vivid photos and videos than those other smartphones can produce. Also Low Temperature Poly-Silicon (LTPS) technology provides higher resolution screen at a more efficient energy usage/consumption.
ASUS ZenFone 2 uses unibody design. As the back cover is removed, there lies the Li-Polymer 3000mAh battery which cannot be removed. However, that gives users a hassle free SIM card 1, SIM card 2, and microSD insertion or removal. The device supports 4G LTE data connectivity in SIM 1 slot while SIM 2 slot is used for voice communication and SMS. MicroSD slot lets user utilize up to 64GB SD card.
There are two types of dual SIM smartphone available in the market: Dual SIM Dual Standby (DSDS) and Dual SIM Dual Active (DSDA). Most dual SIM smartphones feature Dual SIM Dual Standby in which a single transceiver will activate only one SIM card at a time. ASUS ZenFone 2 uses Dual SIM Dual Active technology which operates two transceivers, one for each SIM card slot.
This gives the advantage of two SIM cards being always active. Making and receiving calls or SMS from both SIM cards can be done simultaneously. Users can opt for holding his or her conversation with the first caller when receving a call from the second caller. Then the conversation with the first caller (on SIM card 1) can be continued after finishing with the second caller (on SIM card 2).
Another interesting feature of ZenFone 2 is 5 Laser Direct Structuring Antenna technology. By applying this antenna making technology, signal quality is enhanced while space is reduced if compared to smartphones with conventional antennas.
If you look at the picture more closely, you will see sticker-like structures "attached" to the body (look at the arrows). Those 5 antenna structures are actually signal receivers and transmitters. They have different functions respectedly Diversity Antenna for SIM 1; 802.11ac WiFi antenna and Bluetooth 4.0, antenna for receiving signals from 5 GPS satellites; antenna for SIM 2; and 2G/3G/4G main antenna for SIM 1.



to be continued….. here